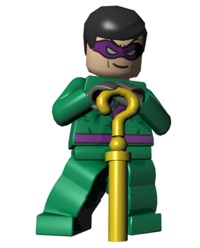 The Riddler is a Super Villain and a secondary main character in "Batman" and "LEGO Batman". The Riddler is obsessed with riddles, puzzles, and word games. He delights in forewarning both Batman and the police of his capers by sending them complex clues. With this self-conscious use of a gimmick, the Riddler's crimes are flamboyant and ostentatious. The character is often depicted as wearing a domino mask either with a green suit and bowler hat, or a green unitard with question mark print.
Fanon Gallery
Edit
Ad blocker interference detected!
Wikia is a free-to-use site that makes money from advertising. We have a modified experience for viewers using ad blockers

Wikia is not accessible if you've made further modifications. Remove the custom ad blocker rule(s) and the page will load as expected.